Haruspex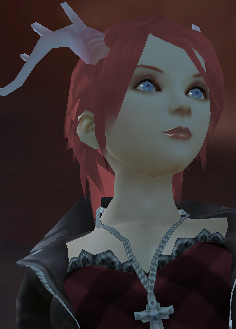 | | |
| --- | --- |
| Name | Haruspex |
| Race | Untamed |
| Class | Venomancer |
| Level | 78 |
Personal Information
Hey there, I'm Haruspex, more commonly known as Emily or Haru. While my account has been around since September of 2008, I have only been playing since August of 2009.
Previously I played FlyFF with some of the most amazing people in the world, including FatherTed and ukulele.
I live in Texas, down in the region most known for year-round unbearable weather. :D.
I am a screenshot whore - I take shots of anything and everything.
Game Philosophy
As I've leveled more, I've become a bit suicidal in my tactics, both in grinding and in TT, FB, and more recently, FC runs. Oddly, I usually manage to escape death in the most absurd of circumstances.
Gameplay
Haruspex is an arcane build, currently with about 80 Vit, 30 something (I think) Str, and 310~ Mag. This is with equips, of course. Vit and Mag both have some points added from armor, rings, belt, etc.
From the beginning, I added 3 points to Vit, 1 point to Str, and 6 points to Mag every 2 levels until I hit about 70 base Vit. I have since stopped adding to Vit and built up my Mag.
I use a Crystalline Magmite by the name of MrSmashy. I'm a firm believer that I have no need for a Herc. I'm not the primary tank in 99% of FB runs, unless I'm tanking 29, 39, or 51 for someone. For flying fights I do have a Petite Sawfly named MrStingy, though if what I'm fighting is a strong magic mob, I'll usually stow any pets and tank it myself.
Crafting Skills
Blacksmith = 1
Craftsman = 4
Tailor = 3… I think.
Apothecary = 4
Alternate Characters
Solik (Wizard) lv. 44
Odinn (Barbarian) lv. 20
Solida (Cleric) lv. 13
Brewery (Archer) lv. 10
page revision: 5, last edited: 06 Dec 2009 07:04